Google My Business
Google quotes: 97% of people search online for local businesses. You need to be there when they're looking for your business niche on Google Maps.
Do you want more people to contact your business?
Then you need to be found on the MAP!

Having our business ranked on our local Google Maps is currently the only form of advertising we are doing. This is our best source of leads and we are busier than we have ever been!
– HVAC Contractor Reno, NV
Still don't think being ranked on your local Google Map will make a HUGE difference?
Take a look at the 'heat map' below. This shows where people click on a typical local search results.
All the clicks are on the Google Maps results! You need to be on this map!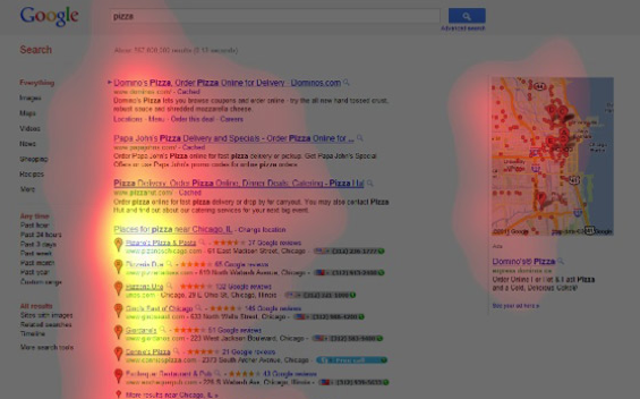 1GOOGLE MY BUSINESS IS A POWERFUL MARKETING & SOCIAL PROOF TOOL
Google Maps is the most commonly used navigation platform in the world. Businesses with Google My Business profiles will not on be 'put on the map', but they can gain +1s and user reviews. According to research firm Dimensional Research, 90% of consumers say their buying decisions are influenced by reviews. And +1s are like votes for a business. Businesses that habitually please customers are doing themselves a great disservice by not allowing satisfied customers an easy way to share their experience. Google My Business accomplishes this.
This social proof is more critical than ever in an increasingly competitive and tech-savy marketplace. As for SEO, Google is making +1 share counts an increasingly important factor in their SEO algorithm. Having a Google My Business profile is the only way to get +1s and reviews for your business in Google's powerful search and maps infrastructure.
That alone should be enough to convice any business to get a Google My Business profile.
2GOOGLE MY BUSINESS ALLOWS BUSINESSES TO ATTRACT AND CONVERT MOBILE USERS
According to a joint study from Google and Nielson, 73% of mobile searches trigger additional actions and a whopping 28% of all mobile searches result in a conversion (defined as store visit, purchase, or phone call). The same study found that 45% of searches are goal-oriented. And here's why a lcoal business is crazy not to have a Google My Business profile…
50% OF MOBILE SEARCHES ARE FOR LOCAL PLACES OF INTEREST. With Google's dominant market share in mobile and maps, that means that for half of all mobile searches, which are a significant driver of conversions, the businesses with Google My Business profiles have an edge over the competition.
3GOOGLE MY BUSINESS FOR SEO
According to Search Engine Company Moz, sharing metrics such as +1s account for 6.3% of the SEO ranking pie. That may seem small, but when you're neck and neck with a competitor or just starting out, that percentage will make all of the difference.
It's widely believed that these social factors will continue to grow in influence, as Google recognizes that social metrics are a key component of trust online. Businesses need to care about their social metrics now before they fall behind. This is not to mention that a social share is a form of the most powerful marketing in the world.
Moz reported that reviews accounted for 10.3% of SEO ranking. If you put it together, today's SEO impact of +1s and reviews is roughly 15% with all signs pointing to that percentage increasing. When you fractor in the non-SEO factors such as word-of-mouth and the importance of reviews for consumers, creating a Google My Business page isn't just a good idea for local businesses, it's a must.
Look at some these other important stats/facts:
66% of North Americans use online search to locate local businesses
82% of local searchers follow up via a in-store visit, phone call, or purchase
80% of all retail transactions happen within a 15 miles of people's homes
32% of people with smart phones conducted a local search
These are people who are looking for EXACTLY what it is you do and Google Maps is the first thing they see in a organic search engine results page.  All you need to do is get your business information in front of this traffic and you will have a steady stream of new clients and customers.